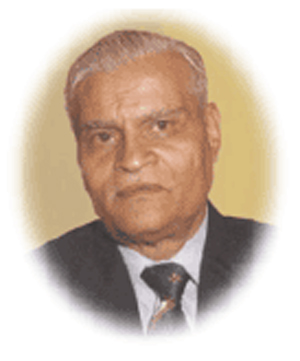 Late Shri V M Jog (1927-2000) whose single-handed hardwork and intense devotion to Chhatrapati Shivaji Maharaj has fructified into the Raigad Ropeway.
The Founder
Shri Vishnu Maheshwar alias Dadasaheb Jog was born on 6 April 1927 at Pune. He received his primary education at Wai and shifted to Pune for higher education. In 1949, he obtained a degree in Civil Engineering from Pune Engineering College. He started his career by taking up a job first with Central Provinces Government and later with State of Maharashtra. His creative and ambitious mind could not find enough challenge in Government service. In 1952, he set up a construction company with a modest capital. His businesses prospered through his relentless hard work and determination. Today his companies have sprawling businesses all over India. Dadasaheb had a multi-faceted personality. Besides being a highly accomplished technocrat, he was a deeply spiritual person. From the early age of 16, he never missed his daily 'Dnyaneshwari Parayan'.
He was a devotee of Shri Chhatrapati Shivaji Maharaj. On 10 April 1990, he wanted to visit Samadhi of Shiv-Chhatrapati on Fort Raigad. By then, he had undergone a cardiac bypass surgery. The mere thought of climbing the Fort in such a state was well neigh impossible. However, he did manage to the reach to top in a 'Doli'. This incident set him thinking about the lot of poor people who could ill afford such luxury. Inaccessibility of Fort Raigad had to be tackled so that the aged, the disabled and the children could pay their respects at the Samadhi.
This idea totally captivated his mind, day and night alike. Building a Ropeway on Fort Raigad was a Herculean task. However, for Dadasaheb, the iron-willed man, 'work was worship'. Shri Shivaji Raigad Smarak Mandal founded by Lokamanya Tilak in 1895 showed him a ray of hope. Drawing inspiration from them, Dadasaheb relentlessly pursued his objective of conceptualizing and thereafter constructing the Ropeway. His single-minded hard work, engineering genius and above all, his intense devotion to Chhatrapati Shivaji Maharaj, fructified in the form of Project Raigad Ropeway on 3 April 1996. The miracle became a reality.
Having accomplished his life mission, this ardent devotee of Dnyaneshwar-Maharaj, on 28 June 2000, Jeshtha Krishna Ekadashi, while the 'Palkhi' left from Pune for Pandharpur, left for his heavenly abode
Background
The Shri. Shivaji Raigad Smarak Mandal (SSRSM) was founded by Lokmanya Bal Gangadhar Tilak in 1886. The SSRSM undertook the task of making the Fort Raigad more accessible to the people. In 1990, the then Government of Maharashtra, accepted the proposal of SSRSM for the construction of a ropeway. M/s Triveni, a construction firm of Naini, Allahabad, an undertaking of the Central Government submitted a proposal of Rs. 8 Crores for the project. The project was a non-starter due to the prohibitive cost and requirement of foreign exchange.
Completion of the Project
In 1994, Jog Engineering Limited (JEL), in the national interest undertook to construct this awe-inspiring ropeway with their own personal investment, by entering into a Build, Operate and Transfer Agreement (BOT) with SSRSM. In spite of several formidable difficulties, the project was completed on 3rd April 1996 and was inaugurated by (Late) Prof. Rajendrasinhji, the then Sarasanghchalak, RSS.
The cost of construction was Rs. 3.1 Crores only, as compared to Rs. 8 Crores as quoted by the government agency. The shackles of inaccessibility were broken and the impregnable Fort was brought within easy reach of all-the young children, the old and the disabled alike. A dream fulfilled at last!